A Woman Will Be Chosen For The New $10 Bill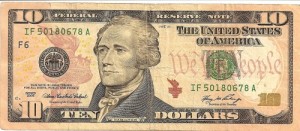 The U.S. Treasury has announced that it will replace Alexander Hamilton on the U.S. $10 bill. On Wednesday, U.S. Treasury Secretary Jack Lew said a woman will be featured on a redesigned $10 bill in 2020 celebrating the 100th anniversary of the Constitution's 19th Amendment, which gave women the right to vote.
There have only been 4 women featured on US Dollar currency, Martha Washington, Pocahontas, Susan B. Anthony and Sacagewea.
While Lews is offering the public the chance to weigh in on the decision for the next woman to be celebrated on United States currency, Conquer Him wonders who the next choice will be.
Who do you believe should be placed on the new ten dollar bill and why? Does this action indicate a new wave of reverence for women
If you appreciate this article please offer a donation to show your support.