FemDom Mistress: Rebelle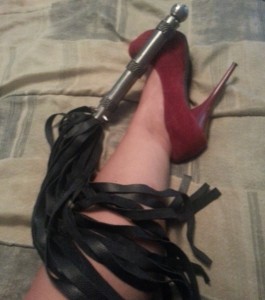 Rebelle is a southern born and raised rebel of the ideal "Southern Belle".
Having grown up with the stereotypes, I tried very hard to conform into an obedient submissive, but it was not to be. As a confident and intelligent woman I was never able to swallow the concept of smiling innocently while knowingly be misled by the infallible, superior male. No, not all, or even most of the men are like that these days but there is still the overriding mindset that men are natural born leaders. I beg to differ…
I spent my early adulthood drawn to confident, self-assured women. What I learned is that I would never be happy or content in a relationship where I was not in charge of my own life and destiny. In a successful relationship, two people are supposed to be on the same path meaning I had to be in charge of my partner's life and destiny as well. Finding the right partner in life is difficult enough on a level playing field and I admit I failed terribly. Once I committed to bucking the societal norm and focused on finding a submissive man to both love and serve me, life blossomed. I found someone who understands and accepts me, someone who craves the direction and guidance I offer.
My marriage looks (at least reasonably) normal from the outside despite living a 24/7 female led D/s lifestyle. I control our personal as well as business finances. I make all the decisions; I ask for his thoughts and preferences, yet decision is mine to make. We both contribute to the housekeeping equally and have chores I assign. My husband has his own hobbies but he has to discuss the time he wishes to spend pursuing those interest with me first, and I have the authority to say no. For example, if his football team is on tv or if his friends invite him to go out and I feel it wouldn't benefit him or us, I decline. If I feel he needs some personal time, I say yes.
Understand, I love this man. He is not a wimp nor is he 'whipped'. He loves me and willingly gives up control because he knows my love for him as well as my strength and character. I am not some puppet master pulling strings. I'm not cold hearted, domineering or selfish. My number one job is to take the best possible care of him physically, emotionally, mentally, and sexually. If he is miserable or unfulfilled in any area of life, I have failed. He is required to submit and communicate honestly, the burden of responsibility and success rests on my shoulders.
Am I perfect, hardly. I have weaknesses and flaws. I mess up and apologize. I am human just like everyone else, but at the end of the day, despite my mistakes I am still the one in charge of my relationship, my happiness, and my life!
~Rebelle
To show your appreciation to the Mistress and thank her for her time and assistance leave a message of gratitude in the comments below. 
If you appreciate this article please offer a donation to show your support.