Conquer Him Goals For The New Year
After quite a few startling comments and emails from readers I decided that I needed to make the focus of Conquer Him (With Love) more succinct and straight forward.
In order to do this I created a poll to gauge the popular opinion of the readers. These are the results.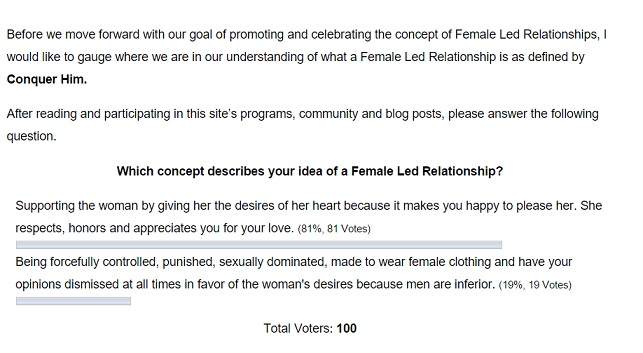 As you can see, 81% of Conquer Him readers believe that a Female Led Relationship is about supporting the woman and giving her the desires of her heart for the simple pleasure of pleasing her.
19% of Conquer Him readers believe that Female Led Relationships are about controlling, dominating and subjugating the man.
As I continue my mission with Conquer Him (With Love), which aims to introduce the concept of Female Led Relationship into the mainstream, I must be diligent in crafting a message that will appeal to women and men who are not interested in BDSM and kink.
Although this site attracts kinksters, dommes and masochistic submissives who crave forceful control, punishment and degradation, Conquer Him (With Love) is not about those things. My goal for the new year is to reduce the number of readers who believe that FLRs should be based on controlling, dominating or degrading men. 
If you are a man looking for a place to encourage you in your pursuit of pain, punishment and forced discipline, this is not the site for you.
If you are a man who needs a woman to force you to take care of your own life goals and you can not function in this world without the focused attention and dominance of a woman, this is not the site for you.
Conquer Him (With Love) aims to attract, train and match Powerful Women with men who are self sufficient, skilled, useful and proud to be submissive to women. These Submissive Gentlemen do not yearn to sleep on the floor or be whipped and forced to comply. These Submissive Gentlemen are assets to the lives of the women they love because they are just as intelligent and powerful as the woman they are partnered with. These Submissive Gentlemen are heroes who serve the woman they love not because they can't function without a woman's guidance but because they have much to offer a strong and Powerful Woman to help her achieve her heart's desires.
If you are a woman whose husband has introduced the idea of a FLR and you don't quite know what to do, this site is for you. Regardless of his intentions, the mere fact that he has given you this beautiful gift of telling you about FLRs will change your world forever.
A Female Led Relationship is not about what the man wants and needs or his desires to be dominated and controlled. That is Femdom. Femdom focuses on the man's needs and the woman spends the majority of her time servicing him the way he wants to be dominated.
A Female Led Relationship focuses on creating the woman's fantasy life and the man takes focused effort to create it for her. But, before he can help her create her dream life, she must first know what she wants. The FLR Leadership Training Program for Women presented by Conquer Him (With Love) will help you to decide what you want, build your confidence, answer any questions you may have and adjust your perspective of what a FLR truly is so that both you and your partner can build a truly amazing relationship.
Once again, to avoid any future confusion I will make my intentions plain.
Conquer Him (With Love) does not promote Female Led Relationships that are based on BDSM, kink, Femdom, S&M or Female Superiority.
We encourage loving relationships where respect for the mutual choice to participate in a FLR is at the center and appreciation for the ongoing choice to participate in this dynamic leads both parties to love each other unconditionally.
The man offers his unconditional support to the dreams and goals of the woman he loves and asks for nothing in return except for her appreciation and love for allowing him to be her hero.
This is the basis of the concept of the Female Led Relationship that I am teaching through Conquer Him (With Love).
I am currently building a Community for people interested in Female Led Relationships that are genuinely about the empowerment of women and not about servicing masochistic men. There are men who truly love being partnered with strong women and do not need to be beat down to feel sexually satisfied.
You are free to believe what you like and you are also free to disagree with me but if you are here to express your kinks and call it a FLR, you will not be entertained, not by me anyway.
No, I have never embarked on such a mission before. Yes, I will probably make mistakes along the way. But, I do believe that Female Led Relationships can be embraced by the mainstream masses and men everywhere can be free to be the heroes that they yearn to be if the women can learn to understand that they can and should lead. 
Thank you for your patience and support as I move forward with this mission. If you have any questions or want to offer a respectful opinion please do reach out to me privately.
Te-Erika Patterson
If you appreciate this article please offer a donation to show your support.