How Does a Dominant Woman React to an Attractive Man?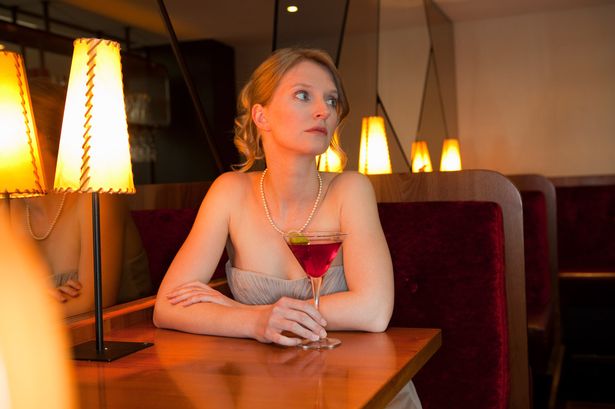 She is powerful and she knows it. She loves her life and her smile shows it. She is an amazing woman who doesn't really need anything but the thrill of having more excites her.
She may head out for happy hour at her favorite restaurant just to people watch and mingle. As she sips a glass of wine she notices a handsome man walk in and sit down with two of his male friends. She feels a tingle run up her spine, he's cute.
Her feminine energy shoots over to him and he notices her looking his way. He immediately blushes and looks down at his feet, fumbling with his hands. When he looks up again she is smiling at him and raises her glass in a toast.
At this point, she has definitely recognized an attraction to this man. It could be spiritual or energetic or even sexual, but regardless the attraction is quite evident.
If the man she has noticed is a submissive man he may not know what he should do in this situation. Her non flinching smile and confidence has captivated him but his heart is filled with fear. He always feels this way around powerful women, women who are confident enough to not play coy or play games.
Should he approach her?
Should he send her a drink?
Should he wait for her to approach him?
Should he have the waiter send his phone number?
He doesn't want to lose out. He wants to at least have a conversation with her but he's nervous. He doesn't want to be rejected in front of his friends and he's not sure if she's really flirting or just having fun. What should he do?
Conquer Him completed a survey of 36 dominant women who shared the intimate details of their attitudes and preferences concerning dating, romantic relationships and courtships.
The women were asked how they react when they see a man they find attractive. Here are the results: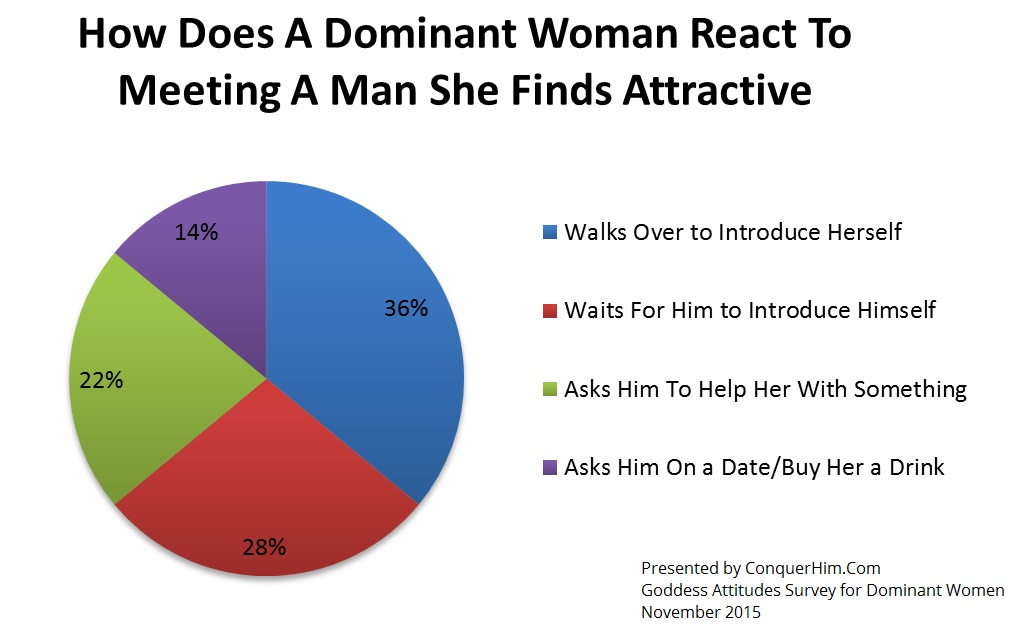 36% of dominant women said they would walk up and introduce themselves
28% of dominant women said they would wait for the man to introduce himself
22% of dominant women said they would approach him and ask him to help her with something
14% of dominant women said they would immediately ask him out on a date or ask him to buy her a drink
The majority of dominant women (36%) surveyed will approach a man and start a conversation. If you are a man and a woman approaches you out of the blue she is likely to be dominant and to be interested in you. Take your time. Listen to her. Allow her to share her interests and be engaged with what she is saying. Do not behave fearfully. You are very close since she already likes you physically. All you have to do is try not say anything stupid like talk about your kinks, make her feel pressured or do other things that will make her lose interest quickly. 
The second highest number of women (28%) said they would not approach a man, instead waiting for him to introduce himself.  This indicates that just because a woman is dominant, does not mean that she wants to make the first move. These women want to feel desired. They want you to show that you are smart enough to recognize a confident woman and bold enough to go after what you want. If you are a man and you notice a woman you find attractive, make clear eye contact with her, wait for a smile and then introduce yourself.
Do you want to know how to become more attractive to dominant women online?
Do you want to know how to introduce your new wife or girlfriend to being more dominant?
Do you want to know what you have been doing that has been turning women off?
You can learn the answers to these questions and so much more during our FLR Training For Men which is set to begin soon! We will discuss the rest of the results from our Goddess Attitudes Survey exclusively during our training!
Join us for 1 Week of training, that is 5 consecutive days, as I share all of the results from our survey of dominant women and introduce you to dominant women and couples who have found success after forming their Female Led Relationships.
If you appreciate this article please offer a donation to show your support.