How To Recognize A Dominant Woman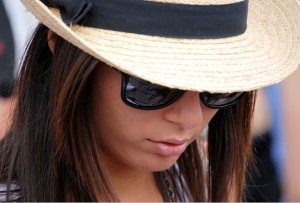 A dominant woman can not be easily recognized by a checklist. She appears in a variety of skin tones, dress sizes and career choices. A dominant woman is most recognizable by her ability to make decisions for herself without the approval or opinions of others.
This kind of confidence is rare in a world that sets standards for our lives for us and imposes them from the moment we are born. The dominant woman has decided to create her own standards. By doing this, she creates a different life experience than most and many are enchanted by her.
A dominant woman most always feels good about herself. She understands that people are watching what she does and she feels a certain obligation to teach and lead them. She does not believe that anyone is beneath her, per se, but she does believe that there are certain people who need guidance and she is more than willing to offer it. In fact, she believes it is her duty.
She doesn't have to be loud, rude or crass as she takes the lead in situations at home and at work. In fact, the most secure dominant woman, rarely has to raise her voice.  She leads because others trust her to lead and she doesn't necessarily dominate, but rather she serves others who place their trust in her hands.
The art of female domination, or femdom, has less to do with being bossy and more to do with developing a trust filled relationship with a partner who understands that allowing her to take the lead is actually in the best interest of the relationship, whether it be a romantic relationship, friendship or business relationship.
A dominant woman is not made of steel. She laughs, she cries, she hopes, she has fears. She fumbles and sometimes she falls. The difference between the dominant woman and other women is. when she makes a mistake, she owns it and transforms it into something that will benefit her life.
A dominant woman doesn't need to lead, others need her to lead.
If you appreciate this article please offer a donation to show your support.