Jenny Beaven Refused To Wear Heels to the Oscars
In a glitterized world where women are often required to wear heels at red carpet events, Oscar-winning costume designer Jenny Beaven boldly states that she will not follow the rules. Jenny wore a black leather jacket with a scarf and flats to Sunday's Academy Awards ceremony where she picked up the Oscar for Best Costume Design for a show called Mad Max. This award will sit next to her previous Best Costume Design Oscar which she earned in 1986 for A Room With a View.
Social media is abuzz with chatter that certain men refused to clap for her as she walked to the stage but I will.
"I really don't do frocks, and I absolutely don't do heels, I don't wear them, I have a bad back," she told the media in the backstage press room at the Oscars. "I look ridiculous in a gown, and this was an homage to 'Mad Max.'"
Without any explanation needed on her behalf I totally understood her decision.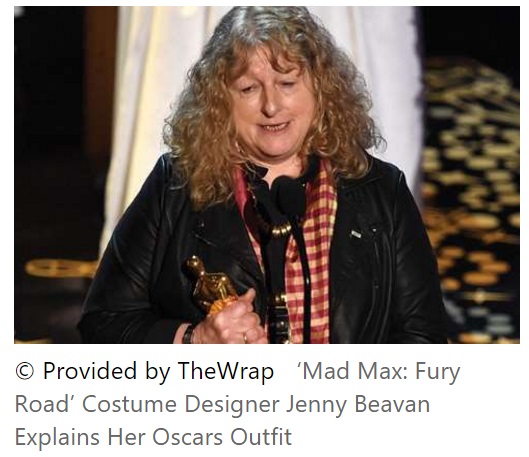 We women are continually expected to fit into a box of something called femininity but the horrible part is, we allow men to define what feminine means. In order to move forward to embrace a Female Led Society, we need to take back control of our bodies, our lifestyles and our choices.
There is no reason why any woman must conform to what a man feels she should look like in order to be attractive.  Conforming means that you are seeking the approval of men. In order to take back society and overrule its patriarchal ways, we all must leave the heels at home if they don't make us feel beautiful.
A truly Powerful woman understands that her looks may attract a man but it is her attitude and willingness to create her own rules for life, no matter what it costs her, that makes her most attractive.
At the end of the night I bet Jenny didn't have to soak her aching feet. She probably went home, ate her favorite meal and gave absolutely no fucks about whether people liked her or not. Jenny's attitude is PERFECTION.
Powerful women don't need approval.
If you appreciate this article please offer a donation to show your support.