A Domme At Home Is a Domme At Work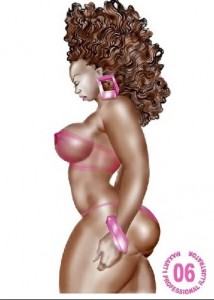 READ PREVIOUS- I Was Born Into A Racist Family
Choosing to be a Domme was one of the hardest decisions I ever made. It was one thing to just be a "kinkster" in the community, and I had accepted my fetishes very well because compared to some of them I had read about, my particular kinks – although weird and freaky to vanillas- would be considered rated G to educated BDSM lifestylers.
The biggest challenge for me was the question of rather or not I (the good girl who was neither Sadist nor Masochist) could do a scene with a subservient when that time came. A letter from a 17 year old white girl had sealed the deal to decide to be a Black Supremacist Domme over white slaves. And countless other letters before it from Caucasians proved that title was in high demand. I believed I could get willing white slaves to challenge minority racism at all cost. No one ever heard the cries of Blacks….but EVERYONE listened to the pleas of Whites. But now that I decided to do it did I have the balls for the role I intended to play? I didn't like how that sounded: ROLE. It made me thing of "role playing" and there was NOTHING play about racism. A mere role wasn't good enough to attempt what I was about to, it had to be genuine and foreal.
Was I for real? I'd been told for years I was aggressive, controlling, hard and a kink favorite: dominant – since entering the community where I had no title. But I learned the difference between that and a DOMME in the kink community. What I wanted to do a dominant couldn't pull off, only a Domme/Mistress could. Was that me? I thought it over and I looked for answers EVERYWHERE.
I am DEFINITELY a Domme in my apartment: my way or the highway. I was the youngest yet when my mom died I was somehow pushed into the position as head of my mother's children and grandchildren. They didn't ask but just threw me into it. Everyone was running to me for everything as they had my mom who had been a PowerHouse over the ENTIRE family when her mom died.
I came from a family of dominant women by blood and that I already knew. But did that make me prepared and ready to be a Domme? Lots of people are D's in their own home yet ordinary joe's out in the real world, either submissives or the worst which was push overs. Oh HELL no I was none of those out in public. I was the girl who held doors open for people and if they didn't say thank you they wished they had because I tore into their ass with a "Eh?!! Do I look like the fuckn doorman? You say THANK YOU when someone is courteous asshole." Or a "EXCUSE ME oh great one. If I ever see you again I will make it my business to wait until you get just to the threshold and slam the door right in your damn face…since YOU can't say thank you when someone takes the time to hold the door for you." And it was other everyday things that I wouldn't let ppl get away with either, like cutting in long lines. "Am I so damn dark skinned that you don't see me standing here? Excuse me, not today. You wait your turn or pull that shit on the next dumbass who don't know any better." And I didn't care if these people were male, female, kids or 7 ft tall to my 5'3 at 125 lbs. My mom had always taught her kids from birth that you fear no one but God.
I also have an EXTREME annoyance for dumb or ignorant conversation or behavior. It is one of my strongest pet peeves. But people who acted as if they had no common sense were number one to get a taste of of my venom if brought to the surface. For example those irritating cashiers at fast food joints. You stand there looking up at the overhead signs to figure out what you want and he/she asks can they help you? Oh Lord. "So the fact that the counter is 4 ft away and I'm standing ALL THE WAY BACK HERE, with my neck at a 30 degree angle looking up and from side to side – and giving you NO eye contact what's so ever – doesn't tell you that I'm NOT ready yet? No, didn't register? I didn't know fast food meant fast ordering." And I look at them and just shake my head with an air of pity.
Sales associates who seemed dismissive or rude always got a peace of my mind and a talk with their manager as well. That kind of behavior was just UN-FUCKN-ACCEPTABLE. I could never walk away from that kind of stuff. I was a firm believer that people behaved in an uncivil manner and continued to do it because too many people ignored it or made excuses for it. I had no qualms about being the Bitch to give'em a dose of their own meds, or pointing out their mistakes.
Jobs were no safer than anyone or anyone else. I had a lost a couple because of bosses with chips on their shoulder would bring their home issues to work or attack staff because their boss had chewed their asses out. No exceptions, bosses needed to be told no as well because if I let it slide once they would feel they could always make me a target. I was taught don't start what you can't finish so I couldn't allow it because even if I let it slide this time I would NOT allow it in the future so better to face music now and be fired with my dignity intact.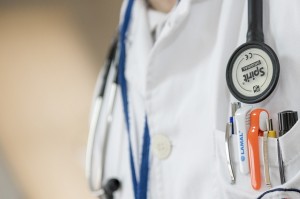 Later on when I began as a healthcare professional at the first stage of nursing (PCT/CNA) you see all the evil, deceit and money hungry doctors and nurses who could give two shits about the sick. They didn't get into medicine to heal and save; they were in it for the CASH. Sick people were my weakness and most of my experience was with geriatrics. My position handled the most hands on interactions with hospital patients or nursing home residents…but my position on average got little to no respect from higher staff. We were flunkies to them. Period. Or should I say the ones who ALLOWED themselves to be treated that way.
I had had words with more than a dozen nurses in my few years in healthcare and had taken many to the private kitchen for a one on one to demand they treat me with the respect I deserve or I was putting a report on their ass for insubordination of employee abuse. I alerted them that most, if not all, of the patients love for me was guaranteed to have the patient act as a witness and sign a report on my behalf. I also had to tell more than a few that if they kept another patient waiting as long as an hour to get pain meds because they were goofing off at the nurses station – I was going to be the witness in the patients call to administration. My conscience was at stake and I had to sleep at night. I was NOT going to toss and turn with a sleepless night because those sons-a-bitches treated work like a goddamn lunch break while people were chronically ill. No sir and no ma'am.
I had a run in with a doctor where I didn't know if I had lost my job for giving him an order. But at that moment it was the right and only choice. A young girl of 20 had been hospitalized for issues with her legs. She was a lesbian, tomboyish but so femininely pretty and soft spoken. She was sweet as pie. Her doctor was a foreigner from India or somewhere and his English was atrocious. Her room was right outside the nurses station and I was charting in the computer when I heard a commotion. I went into her room and the doctor had his hands firmly on her legs and she crying saying stop. The doctor dismissed her and told her it wasn't hurting her. Her brothers were there telling the doctor to let her go. One brother looked at me and asked if the doctor could do that? I was stuck. But the doctor kept going and grabbing her legs and she yelled out in pain.
I told him in a raised and firm voice, "Doctor you have one second to release her or I will have every boss from the board of directors and HR in this room." That bastard knew he had broken healthcare rules and knew when she said stop he was supposed to stop. As well as NEVER assume a patient is lying about their level of pain. He released her and stood back and the RN floor manager along with another nurse and doctor entered the room and told him they would take over. He walked past me and if my look could kill he would have been dead. He wore an expression when he looked at me that he was disgusted that a low class nursing assistant had given him an order that he had to follow and was probably even surprised himself that he complied. I think my tone made the most impact. He walked past me and out the room. It never came up again but I knew that was because they had coddled the girl enough to avoid a lawsuit. They knew I wasn't dumb by far and they knew if they came after me I could sue and bring the patient in on it. But at the time I wasn't thinking clearly just shocked at the situation as well as my own authority over the situation.
There was nothing more that needed to be pondered and I had my answer. I was BORN to be a Domme.
If you appreciate this article please offer a donation to show your support.