Getting Ready For FLR Training For Women – Begins in 6 Days
I am very much intrigued by the new group of women who are enrolled in the FLR Training that begins at the end of this month.
As the women register I ask them to complete a general assessment questionnaire so that I can find out what they want to learn. I then create lessons around their needs. Sounds simple, right?
This group of women are intriguing because all of them are with men who are openly masochistic and they have shared that they need help with developing confidence, strategies for taming rebellion, getting rid of guilt about punishing their lovers and how to evoke devotion through physical and mental punishment.
Wow.
While I never claim to be an expert at any of this, my job is to find women who are and invite them to be speakers during our weekly LIVE TALKS where I will interview them and invite the students to ask questions freely during a private conference call.
I just booked a speaker who is a CBT Mistress. Yes, CBT stands for Cock & Ball Torture. She will be sharing some of her stories of discipline and how to use physical pain to keep men in line.
I also have a sexual domination Mistress helping out with a LIVE DISCUSSION about chastity, structure and protocols, topics I did not address when I was training the men for Female Led Relationships.
This is going to make for one action packed 4 week FLR training session for women. It will be especially awesome since I have finally launched my Conquer Him Academy, an online resource school with courses that students can take at their leisure, developed especially for Female Led Relationships.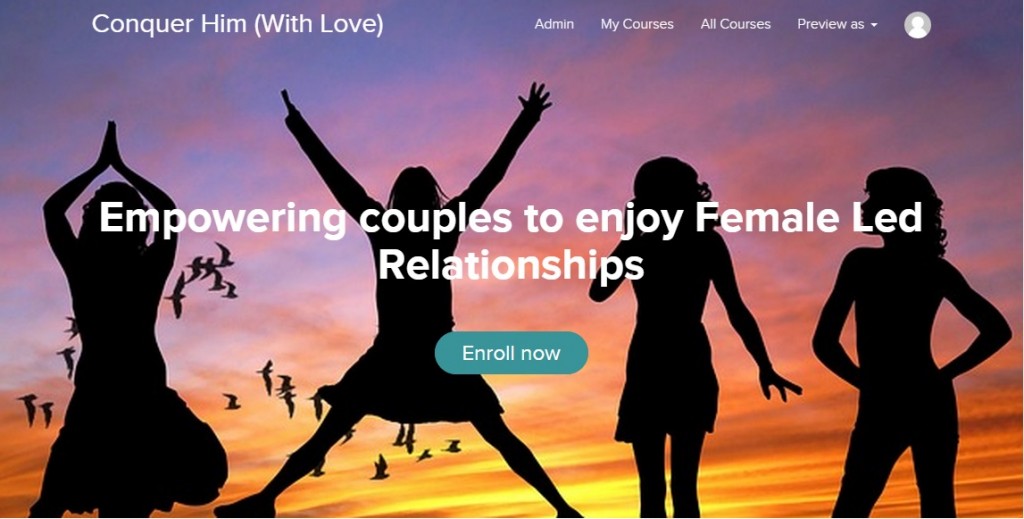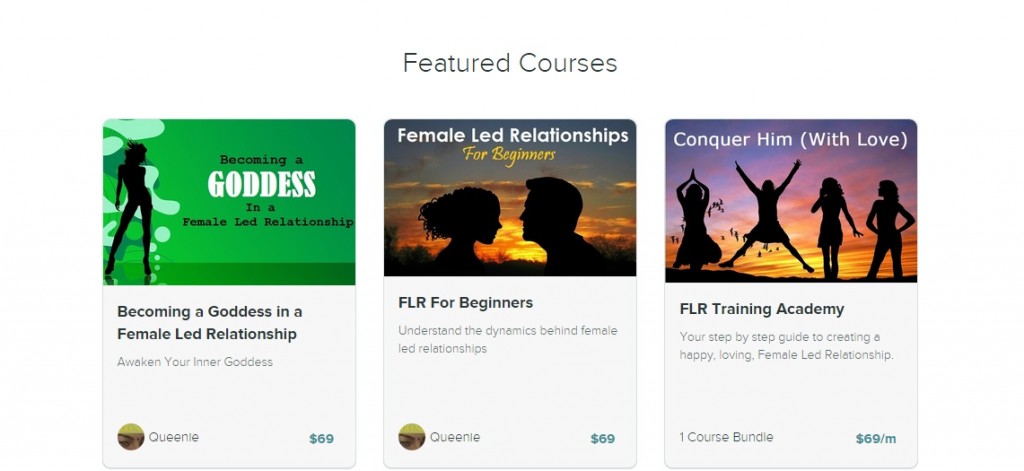 Students who participate in the FLR Training group for women will gain access to the Conquer Him Academy and all of its courses for 3 months. Yes, even after the 4 week training program is over, enrolled students will have access to the new courses for no additional fees.
It takes me about 30 hours to develop each course from planning the lessons to preparing the presentations, recording them, editing the videos and then creating the review and practice information so I will probably be able to create one new course per month to add to the Academy. New courses will be based on requests from the students.
Each course has 5 video lessons (lectures or interviews), a brief quiz, discussion questions (Or exercises) and a writing assignment to guide students as they learn at their own pace.
One of the courses, Becoming a Goddess in a Female Led Relationship, will be used during this training program. Students enrolled in the training program will log in to the Conquer Him Academy, select the appropriate course, watch the assigned videos and post the assignments into our private Facebook group for us to discuss along with the daily discussion questions.
This is coming along very well. I really hope the students enjoy what I have created and it adds value to their lives. I am very much interested in hearing these speakers share about how they live and love masochistic men.
I have so many questions! Are the women naturally sadistic? How did the men reveal their masochistic needs? What are some of the most extreme punishments you have ever given? What about chastity training, is it difficult for the woman? Do you ever feel guilty when punishing your male submissive?
The cool thing about this FLR Training Program is the fact that there is none like it in existence. Most of the Mistresses and teachers I reach out to need to remain anonymous so they only offer ebooks or email coaching. They are limited in sharing their techniques and lifestyles with you and I am not.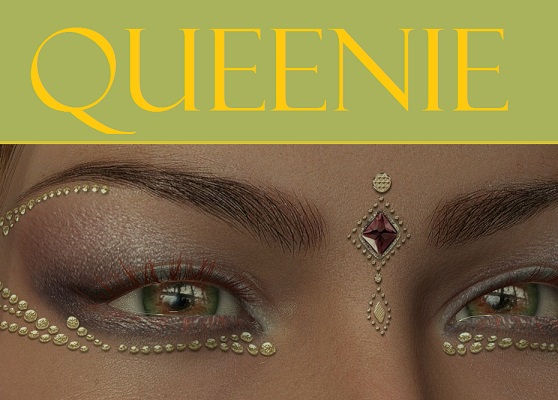 I am already a journalist who explores alternative lifestyles so I am willing to have my name, voice and face attached to what I teach here, regardless of the hate mail I sometimes receive. I figure that it is all a part of my job, so I take it in stride.
With this FLR Training for Women, you will be invited to participate in a private Facebook group for 4 weeks on the condition that you respect everyone's privacy because we will all be using our real Facebook pages.
If you or your wife want to be a part of this awesome new initiative, take a look at the FLR Training For Women program which begins in just 6 days and reach out to me if you have any questions at all!
Queenie
If you appreciate this article please offer a donation to show your support.