Sacrifice Is A Man's Duty In a Female Led Relationship
I believe that in a Female Led Relationship a man should always be willing to sacrifice for the Woman in his life. It's no secret that people's agendas and goals do not always match up perfectly in relationships. When this happens a man should be prepared to put the Woman before himself.
Sacrifice for a Woman in a FLR can take many forms. Indeed, it depends almost entirely on what the Woman in the relationship seeks and desires. But a man in an FLR should be prepared to give some things up sometimes if he expects the relationship to be successful. If a Woman is particularly educated and career oriented then a man should never hesitate to give up on his own career ambitions to further and defend the goals of the Woman in the relationship. For instance it's no secret that men should take more of a role in child-rearing. If the Woman in the relationship finds herself pregnant, her man should be prepared to take on the parenting at home if the Woman requires it of him. This of course may mean that he may have to give up career ambitions to be a stay-at-home dad at home, but as the submissive he should be mentally prepared for this prospect.
In the above example some reading this may conclude that this amounts to little more than a gender role reversal. Indeed, it's not hard to think of it this way. But, there is nothing inherently "feminine" about sacrificing for one's partner. There is nothing inherently "masculine" about being a leader. To the contrary, FLR includes couples with Feminine leaders and masculine submissives and by entering into a FLR men should eagerly sacrifice the biggest thing that society has traditionally bestowed upon men – male privilege.
For instance, a previous post dealt with the prospect of husbands taking the last names of their Wives. Sometimes this may even occur if the Wife doesn't necessarily ask her husband to do so. Taking the Wife's name can be a good way for a man to jettison undeserved privilege and demonstrate to the whole world his commitment, devotion, and subservience. The same can be true for the children in an FLR being given the Mother's name to fully demonstrate the matriarchal nature of the marriage.
Actions such as a man changing his last name to that of his Wife may be seen as a loss for a man. It could be seen as a loss of status and a loss of privilege. Patriarchy fetishizes male power and this act can serve as the ultimate act of devotion. A Female Led Relationship places the Woman's desires and happiness above all else. By giving up this privilege and encouraging Women to take the lead in relationships, businesses, and governments, men can reach a higher level and gain much more in the end.
When Women lead, everyone wins. Men will gain by basking in the glow of their superior partners. Our societies will win when Women can utilize their unparalleled wisdom and spirituality to build a more egalitarian and prosperous world. When men sacrifice for Women and put Women first, men will gain the satisfaction that comes with being part of something bigger than themselves.
Join Our PRIVATE Social Community For Female Led Relationships- CLICK HERE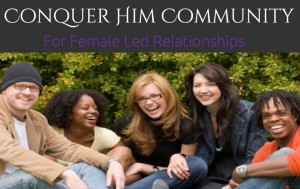 If you appreciate this article please offer a donation to show your support.