The Beauty of Her Submission To His Love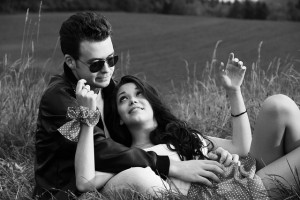 There is usually not a direct path to finding yourself in an Female Led Relationship.  Most of us find these types of relationships following the ending of "vanilla" relationships.  I find that many women express that when they were in "vanilla" relationships, they felt there were more tension, arguments, and significant competitiveness–almost a "one up/one down" style of relating and a lack of trust.
Unfortunately, women in these types of relationships find themselves very self-conscious about releasing, relaxing and trusting their partners;  they tend to hide their faces for fear of being hurt and their emotional power being used against them.
This power is the shield she hides behind, thus she might remain in the relationship, but she will not ever trust herself to really love him or let go.  She is keenly aware that he is afraid of her dominance, so she hides it from him, and has a tendency to wear a façade in order to make him the "man."
A dominant female is self-assured, and will express her needs and wants, and has a healthy self-esteem.  She shares her concerns, and ideas, along with likes and dislikes.
In a movie cast, she is the main character–the star–the Alpha, and her partner has the role of supporter.  He is there to make her dazzle.  She relies on him, and she makes him look bigger than life because he is with her.
In an FLR, a dominant female will find herself less concerned with competition, or getting hurt, since she understands the concept of submitting to her sub's love for her and this is shown through his submission to her.  In a healthy FLR, the female is accorded the hierarchy of Queen, and her sub worships her, which in turn, lessens her defenses and lowers her need to hold back loving him.
There is significant beauty in the art of submission, it is not a weakness as some perceive it to be.  It is the giving of one's self and in this giving, one creates the opening of the window for the receiver–the Queen to accept that she does not have to hold back or be afraid that she will be losing something..
Instead, she understands that her sub needs her to love him through her dominance, and that she needs his submission in order to release and submit to his love for her.
In an FLR, the female is submitting to love, while the male is in submission to receive her love.  The roles are reciprocal and interlocking. It is a dance of souls.
By Lady Alpha Mayan
If you appreciate this article please offer a donation to show your support.